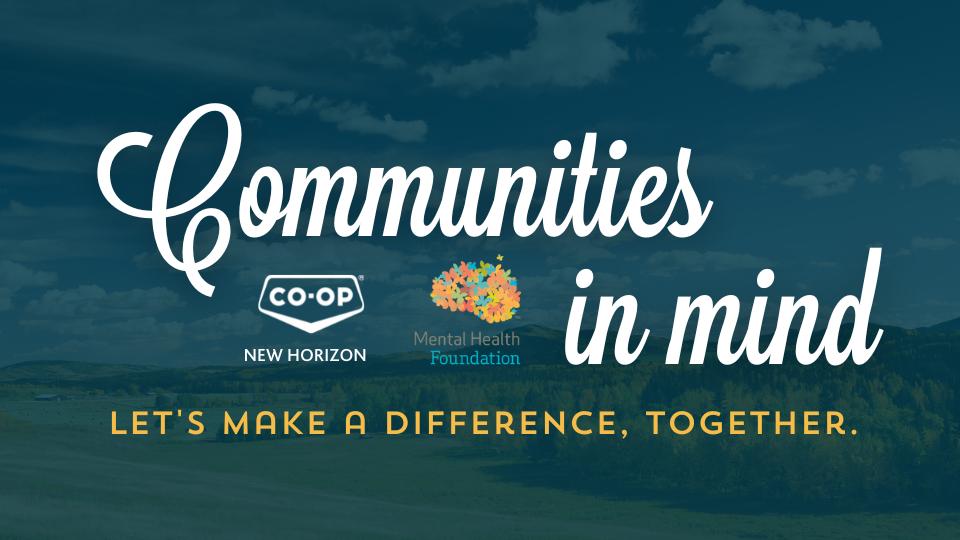 Communities in Mind
January 27, 2023
We are proud to announce a new campaign in partnership with the Alberta Mental Health Foundation and 4 other Co-ops across Alberta.
The Communities In Mind campaign was started by Cornerstone Co-op in 2021 to help raise awareness around Mental Health after recognizing the struggles Albertans were facing during the COVID-19 Pandemic. New Horizon Co-op is honoured to join in this campaign in 2023.
Here are all the details:
During the month of February all of our locations will be collecting cash donations that will go directly towards mental health initiatives in our communities. In return for your donation, our staff will give you a heart to write your name and a heart-felt message for us to display during the campaign.
We'll be working closely with the Alberta Mental Health foundation to ensure funds raised in our locations will go towards mental health programs and initiatives in our New Horizon region. We look forward to sharing where these funds will be distributed.
Please note that while New Horizon Co-op is running this campaign for the entire month of February, our sister Co-ops will be running it February 6 - March 3, 2023.

--------------------------------------------

If you or someone else you know is struggling with their mental health, there are resources available to help:
• Find local Community Resources – 211 Alberta
• Mental Health Helpline 1-877-303-2642
• Addictions Helpline 1-866-332-2322
• Crisis Text Line – Text CONNECT to 741741
• Crisis Support Centre Distress Line: 780-482-HELP (4357)
• Family Violence Info line – 310-1818
• Health Link – 811
• Bullying Hotline 1-888-456-2323
Youth Mental Health & Addictions
• Child Abuse Hotline 1-800-387-5437
• https://mykickstand.ca/connect
• Kids Help Phone – 1 (800) 668-6868 or text CONNECT to 686868
• Child Abuse Hotline 1 (800) 387-5437
• MoreGoodDays – Text 'MoreGoodDays' to 393939 for free daily text messages
Discover more: