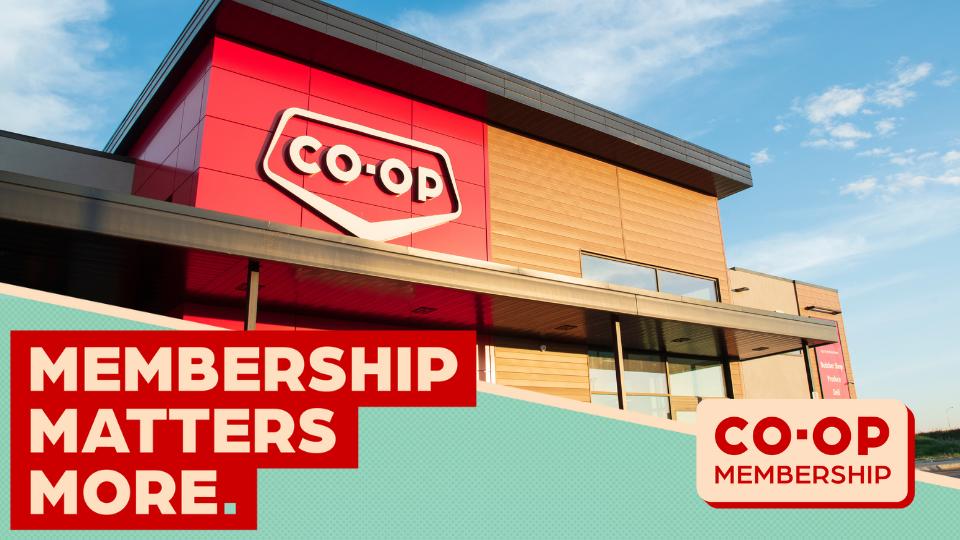 Membership Matters
October 12, 2022
This past Spring, the Co-op CRS asked Co-op members across Western Canada what Co-op membership meant to them for a chance to win $1000 in Co-op Gift Cards. Although none of our members were grand prize winners, we were so touched to read all the thoughtful comments about why Co-op membership is important to them.
Here's what some of our members had to say:
"I enjoy the cash back cheque in the fall, I like how Co-op supports non-profit groups in our community and I like seeing kids in the lineup excited to collect the stickers and other fun Kids Club Perks. Grande Cache Co-op has the friendliest staff!! I choose to shop locally because this allows Co-op to employ more community members. I also have heard about the benefits that Co-op extends to their staff; what a meaningful way to support the health and well being of your employees." – Karianne S. (Grande Cache, AB)
"Fair pricing, love the lay out and cleanliness of the store. Produce is always fresh, and the donuts are the best. Also, the 2 locations make it easier for shopping. And we also get propane from the bulk station. The rebates are nice too. Staff are friendly and always helpful. I have been a member since I moved here in 1995." – Jeanette G. (Grande Prairie, AB)
"Our local Co-op ensures local vendors have their products offered close to home. I am proud to see how they support our community with money and donations. They also have a good pantry that offers free food that is close to/or expired, but still very usable. This is good for people and our environment. Being a Co-op member means I also support these activities, I like that." – Jennifer P. (Grande Prairie, AB)
"We love our local Co-op. My son is now six but we've been shopping with co-op since before he was born. The majority of the workers at the location near us have watched him grow up and know him by name. Having a store where folks treat you like a friend has been amazing. We are strong supporters of our local co op. They make a huge difference in our community with all their charity work." Danielle Jones (Grande Prairie, AB)
"Every time that I go to a Co-op, the service is always friendly, and personable. There are long term employees and it makes you feel like part of a community. The store is clean, and free of obstruction. Also, anything that I need is always there with plenty of fresh selection. I like how Co-op promotes their own brands and feel like some are better than the popular brands." – Catherine (Grande Prairie, AB)
"I actually use my moms membership, that way she can get the cheque every year; she usually ends up using it for her grandchildren. it's just my little bit of a thanks or pay back to my mom whom has always been there for us, and constantly spoiling our kids with so many snacks. Co-op has always been our go to, even when we were very little my mom and dad brought us to the coop when it had a restaurant down stairs. One of the very first places I remember them taking us in GP." – Sinead M. (Grande Prairie, AB)
"I remembered when the co-op opened close to our hometown. It had so many items we had never seen before and it was always exciting for the adventure to the store. Today when I go in I always feel as if I'm channelling my grandmother, I take my time in the store, I look for the produce that was grown in Alberta, locally grown and feel as though I am supporting our local community. It just brings so many memories back." – Naomi D. (Grande Prairie, AB)
"Being that we live in a small community, the co-op in Falher is an important part of our community. It provides us with fresh vegetables and fruits that are usually good quality. Also, the deal days are awesome when it comes to getting the kids lunch snacks. The staff are always friendly, and they have enough staff that you aren't always struggling to look for someone to assist you if need be like some other stores. Like that I only have to drive 15 mins if I need a few groceries." – M.M (Falher, AB)
"Our beautiful little Hamlet of La Glace has the most amazing community. The Co-op here since I have moved to La Glace in 2007 has seen many changes, but still continues to get better each time. The staff always go above and beyond to help out and understand the communities needs. The manager Penny who has been in her position now for a few years has especially exceeded. Always where the co-op can help they do from Community programs, events and donations. It is truly a blessing to have our little co-op here in La Glace as they always have the stock for dollar days and always try and cater to most of the demands of our community. The staff are always so friendly and my daughters and I just love them. Thank you for having such an amazing store and staff, for this wonderful community." – Tayna D. (La Glace, AB)

"Our Co-op has been a important part of my life and our community while growing up in Valleyview. My 92 year old grandfather, whom is still doing wonderful, actually worked at the Coop hardware for years and years and I remember shopping with my grandparents at both stores, the grocery and hardware store, all the time. It was my grandmother that actually bought my membership for me so I had my own number when I was older. Now that she has passed away it still reminds me of her as I continue to shop at the grocery store! We continue to support the Co-op grocery and gas station as its wonderful that they continue to give back and support our community. And My 13 year old grandson says the Co-op bakery makes the best cookies and cream cupcakes in the world!!!" – Tammy I. (Valleyview, AB)
"My Co-op membership matters to me because I feel a sense of community. Every time I get gas or groceries the staff are extremely nice and helpful, and make me feel like I am a part of something. I love how I have a part in a store that carries local products and produce. Co-op has starting grow produce within my groceries store and this makes me extremely proud to be a member." – Kandis B. (Grande Prairie, AB)

"I enjoy being a Co-op member because it allows be to be part of something bigger. Co-op does a lot for its community such as having the food hamper and free food racks out for those in need. I like that I can use my membership card for everyday items. Co-op also gives back to the community in sponsorship and they allow parents to use their Babies Best Start milk coupons at their store. Add in the friendly staff and delicious baked goods that make this shopping experience even more wonderful." – Nicole C. (Grande Prairie, AB)
"I am the third generation member and our family has always believed in supporting local business and local people. The profits stay in here and are spent locally. Other stores the profits leave town and Canada almost immediately. Co-op's profits stay local by supporting other local businesses and local not for profit groups. They have been around for decades helping neighbours help neighbours." – Brad (Grande Prairie, AB)
"It matters because I do 99 percent of my grocery shopping at the one grocery store in our town Grande Cache; the Co-op. Being a member, I get a certain percent of my purchases back in a cheque during the year which is a nice bonus. Having the membership is nice because I check the app weekly for coupons and often there are free Co-op products with purchases over 75$. I enjoy our coop, know where everything is and enjoy the friendly cashiers who I also know as community members. I love bumping into people from the community every time I shop." – Jessica N. (Grande Cache, AB)
"Co-op has been a staple in my life since I was a kid shopping with my parents. From having milkshakes and fries in the cafeteria to wandering the aisles looking for that niche thing, to today for some of the freshest produce and groceries in town. Co-op has always had what I need when I need it , and sometimes even things I didn't need haha. They are always helping out in the community be fundraising to hosting couldn't be prouder to day in a Co-op member. Thanks Co-op" – Danielle E. (Grande Prairie, AB)
"I appreciate my local Co-op for the way they keep prices low, and for the way they help out in the community. I love their sales, and the variety they stock. The staff is always friendly and helpful. They always open extra tills when it gets busy to prevent line ups. And, of course, the yearly dividend payments certainly help my bottom line!" – Betsy B. (Valleyview, AB)
All quotes have been used with permission from their respective author. Any edits that have been made were for spelling or grammar only.
Not a member and want to sign up? Sign up for a one-time fee of $5 In-store or online here:
Discover more: