New Horizon Co-op Family Day
Actions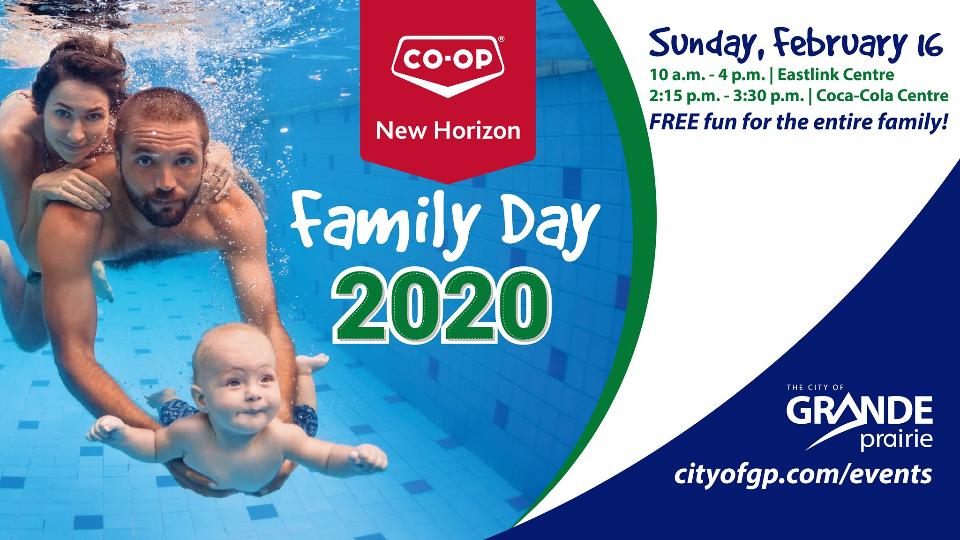 New Horizon Co-op Family Day
January 23, 2020
New Horizon Co-op Family Day
On February 16th bring your family to the Eastlink Centre and Coca-Cola Centre for fun activities thanks to New Horizon Co-op. Enjoy FREE full facility access from 10 a.m. to 4 p.m. with entertainment for all ages. Grab a snack from the Co-op Refreshment Zone, take a splash in the Co-op Splash Zone, visit the Co-op Kids Zone features Cooper the Co-op mascot, games, face-painting and be sure to stop by the Co-op booth to sign up for the free Co-op Kids Club and enter to win a $100 Co-op basket!
Scheduled 2 hour swim blocks in effect starting at 10:00 a.m. with last block commencing at 4:00 p.m. Helmets mandatory for skaters under 18 years of age and recommended for adults.
10 a.m. – 4 p.m.
Eastlink Centre
FREE Admission
2:15 p.m. – 3:30 p.m.
Coca Cola Centre
FREE Skate and enjoy a cup of Co-op hot chocolate.

We look forward to celebrating Family day with you!
Discover more: