New Horizon Co-op -- Annual General Meeting
Actions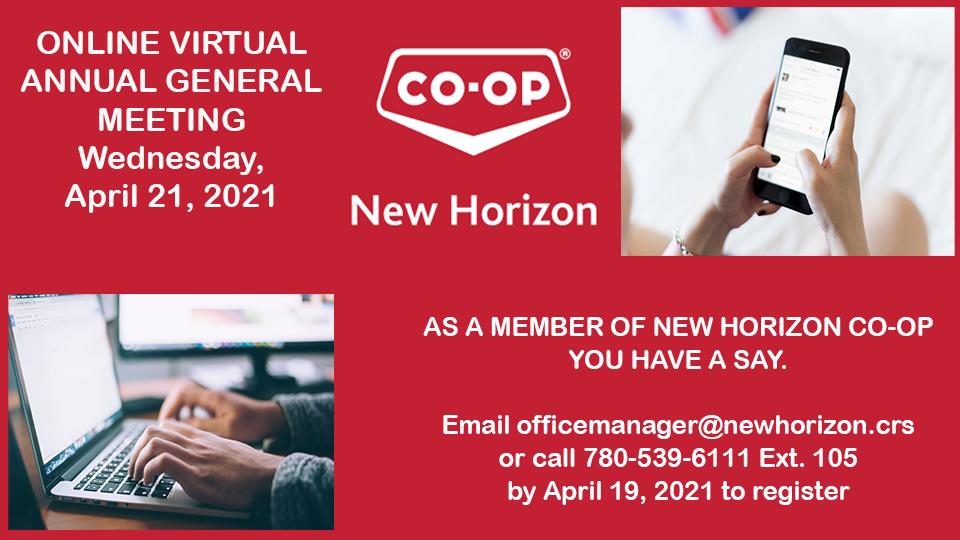 New Horizon Co-op -- Annual General Meeting
March 30, 2021
As a member of New Horizon Co-op, you are an owner. You can participate in the democratic process at our Annual General Meeting, which includes asking questions, proposing/voting on resolutions and electing board members.
You are invited to join us on Wednesday, April 21 at 1:30PM for our Virtual Annual General Meeting.
Due to COVID-19 and the health & wellness of our team, members and communities, we are not able to gather together, however we will be able to share the Financial Report, and Board Reports.
This virtual meeting will be hosted by your Board of Directors and Senior Leadership.
Registration is open.
-To register for this year's virtual AGM by Team Meeting please send an email to officemanager@newhorizon.crs When you register by email, you will receive an email with a link and login to join the annual general meeting and a copy of the agenda. Please check your Spam, Junk or Bulk e-mail folder as it may arrive there.
-To register by phone call 780-539-6111 Ext. 105. If you register to join by phone you can pick up an agenda and meeting by phone information at the Co-op Admin Office located upstairs of the Downtown Co-op Food Store, located at 9831 100th Ave, Grande Prairie.
If you would like to join the annual general meeting please register no later than Monday, April 19th

Discover more: