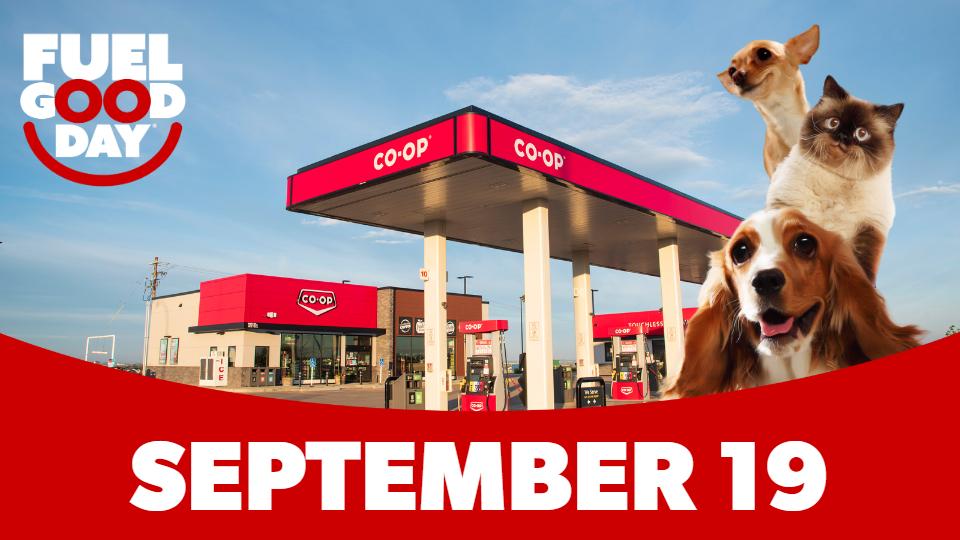 Fuel Good Day 2023!
May 1, 2023
Mark your calendar! This year's Fuel Good Day is September 19th. On Fuel Good Day, we'll have giveaways, in-store events and most importantly, 10¢ from every litre of fuel purchased at New Horizon Co-op gas bars and Falher hardware store will be donated to three local animal rescues in our communities!
We are thrilled to say this year's recipients are Bandaged Paws Animal Rescue Association, In the Woods Animal Rescue and Grande Cache Animal Society.
Here's all the details for Fuel Good Day 2023 ↓
10¢ from every litre of fuel purchased at New Horizon Co-op gas bars will be donated

$1 from every coffee, big cool and ice chillers will be donated
Barbecue Fundraiser at Trader Ridge Gas Bar and Falher Food store parking lots from 11am-2pm

—

$5 for a smokie, $6 for burger, $1 extra for cheese. Each includes bag of chips and a drink
Fuel Good Day cookies will be available to purchase in-store in 6 packs for $5, or 12 packs for $10, with 100% of proceeds to be donated starting September 12
Win your Fuel Back — enter your receipt at check out for a chance to win your fill purchase back (up to $250), one customer per gas bar to win
Visit us in-store for a chance to win prizes! You could win a free synthetic oil change from Great Canadian Oil Change, $250 Grimeworks gift card, $400 Windshield Repair from Standard Auto Glass, $300 Deller Automotive Gift Card and a $200 Tirecraft Gift Card
Meet the In the Woods team and adoptable animals at our Falher Hardware Store from 10am -2pm
Meet Bandaged Paws and adoptable puppies at Trader Ridge gas bar from 11-3pm
Another way to support Fuel Good Day is by using promocode FGD985 on the Co-op Carwash APP anytime between now and September 18th. You'll save $2 and we'll donate $2 from each wash purchased using this promocode.
Thank you for your generous support on September 19th!
Participating locations: Downtown Gas Bar, Royal Oaks Gas Bar, Trader Ridge Gas Bar, Westgate Gas Bar, Stoneridge Gas Bar, Derrick Gas Bar, Hythe Gas Bar, Falher Hardware Store
Thank you to our radio prize sponsors: Grimeworks, Great Canadian Oil Change, Tiresmith Tirecraft, Standard Auto Glass and Deller Automotive
Discover more: