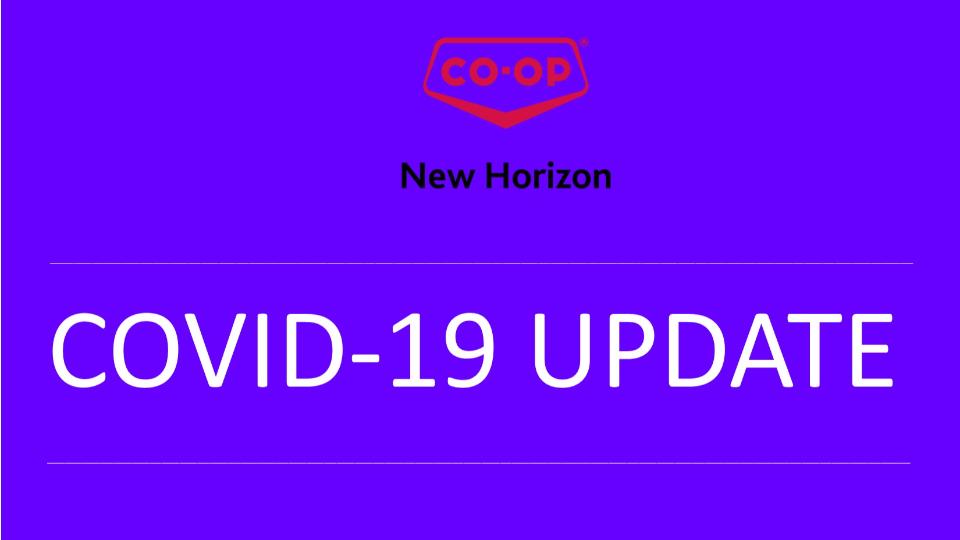 COVID-19 response
March 18, 2020
The novel coronavirus (COVID-19) pandemic is a global challenge that's having a real impact on the communities we serve. COVID-19 is having an impact on all of us.

While the past few days have been extremely busy with unprecedented line-ups in our food stores, throughout the rush we are thankful for the staff and customers for remaining calm and respectful. New Horizon Co-op is taking steps across all stores and businesses to help our communities stay safe and healthy. We're saddened by the news of all those who have been affected and we are actively doing our part.

Our stores are cleaned and sanitized daily as part of normal business, but all stores are increasing the frequency of cleaning. We're also ensuring that preventative resources are made available to both customers and employees. New Horizon Co-op is also working with employees to ensure that they have current information on prevention, in order to stay healthy, or take proper precautions if symptoms arise. These practices are informed by Health Canada, WHO and other helpful resources.

Given the guidance we have received from these agencies, as well as our own preparedness efforts, we believe that we're taking the right steps to ensure that your Co-op stores are safe. We'll also make sure that our prices on all essential items remain stable throughout this challenging time.
Thank you for being a loyal Co-op customer and member. We'll continue to update you on our efforts to help your local co-ops and communities stay safe and healthy.