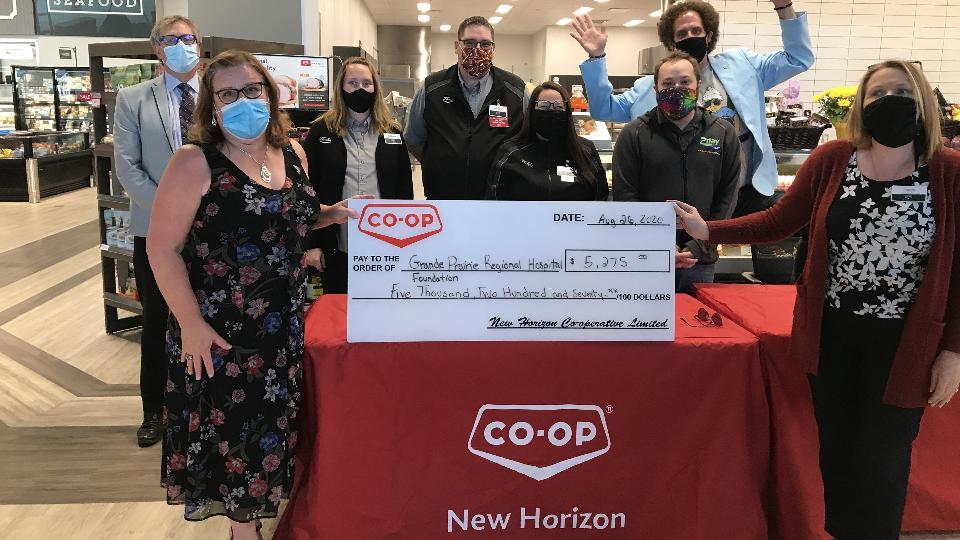 Community Giving
September 3, 2020
On August 26, 2020 New Horizon Co-op donated $5,275.00 to the Grande Prairie Regional Hospital Foundation to help them reach their goal of $25,000 for a much-needed PANDA Infant Warmer for the Grande Prairie Hospital. This was on top of a $2,000 sponsorship for the Backyard Burger SHOWdown virtual fundraiser for this piece of equipment. Much like the Hospital Foundation works to enhance our Community's health care and create sustainability for our hospitals, New Horizon Co-op embeds sustainability into our business by planning and investing for the long term, with our communities in mind. Local matters.
We're not only working for your community; we're owned by the people in your community.
"Without New Horizon Co-op, our hospitals would not be receiving this essential piece of equipment. By raising 25 thousand dollars through this event, our supporters have made it possible to purchase a new Panda Infant Warmer for the hospital's Labour and Delivery Unit," explains Keith Curtis, Executive Director Grande Prairie Regional Hospital Foundation. "These units are necessary for every delivery and with the number of births every year in our region, having enough of these units available is critical."
Our Foundation's relationship with New Horizon Co-op is longstanding and deep. "We have a close relationship to be able to discuss what is important to Co-op and find a way to fundraiser to meet those needs for both our hospitals," explains Dawn Miller, Major Gifts Officer for the Foundation. "Together we keep achieving great things for local healthcare."
Discover more: