Co-op Donates $40,000 For Disc Golf Course
Actions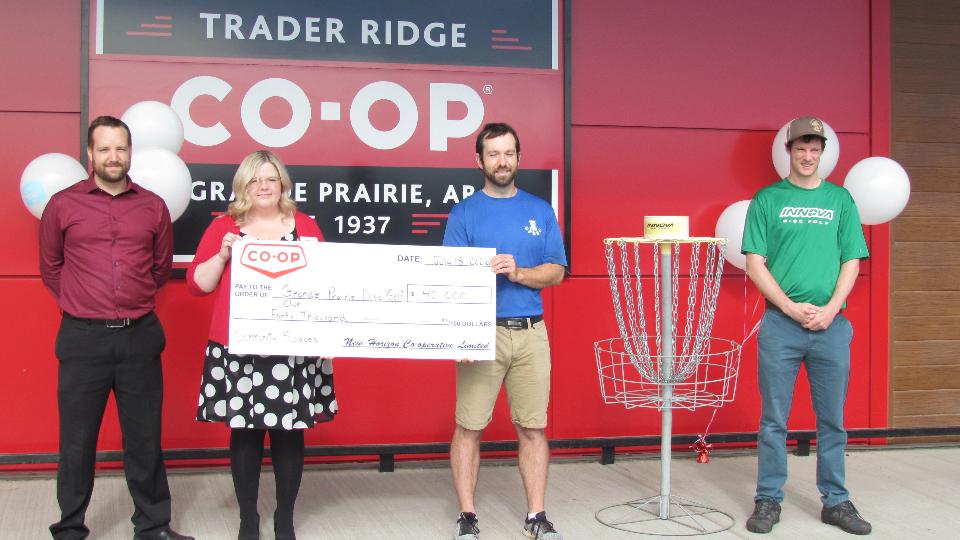 Co-op Donates $40,000 For Disc Golf Course
July 16, 2020
For six years, Co-op has been helping to fund projects to improve communities across Western Canada through Co-op Community Spaces.

This year, Co-op is providing $40,000 to develop a disc golf course in Evergreen Park. This course will also help protect approximately 45 hectares of environmentally sensitive land. By increasing foot traffic in the area, disc golfers are curbing illegal dumping and cutting of trees. And part of the Co-op grant will be used to install gates that will help control vehicle access to the area.

Phil Duffy, Course Lead and Grande Prairie Disc Golf Board Member: "Over the past three years, I've spent a lot of time on this land. I've been struck both by how beautiful it is, and by some of the damaging activity in the area. I'm excited that Co-op is helping us build something that will protect this amazing space."
Dylan Bressey, Grande Prairie Disc Golf Founder and Board Member: "At this time, families are looking for more affordable recreational opportunities. You can't get more affordable than disc golf, which is free to play. We appreciate Co-op making this opportunity available to our community."

Co-op Community Spaces has been developed to help protect, beautify and improve spaces across Western Canada. In 2020, the program is providing $1 million to 17 community projects from Vancouver Island to Manitoba. Since 2015, Co-op has donated $9.5 million to 132 projects. This includes previous projects such as $110,000 to The Grande Prairie & District Catholic Schools Education Foundation for an outdoor multi-sports court at St. Kateri Catholic School.
"We're excited to help fund this new disc golf course at Evergreen park through Co-op Community Spaces. Investing in our community is a value of our co-op, and we're proud to be part of this program that's investing in projects to improve communities across Western Canada." Said, Amanda Pinard, Marketing Team Leader of New Horizon Co-op.
The giving program is administered by Federated Co-operatives Limited on behalf of more than 160 independent retail co-operatives across Western Canada that form the Co-operative Retailing System.
For more information about Co-op Community Spaces or to view the complete list of 2020 funding recipients, visit www.communityspaces.ca