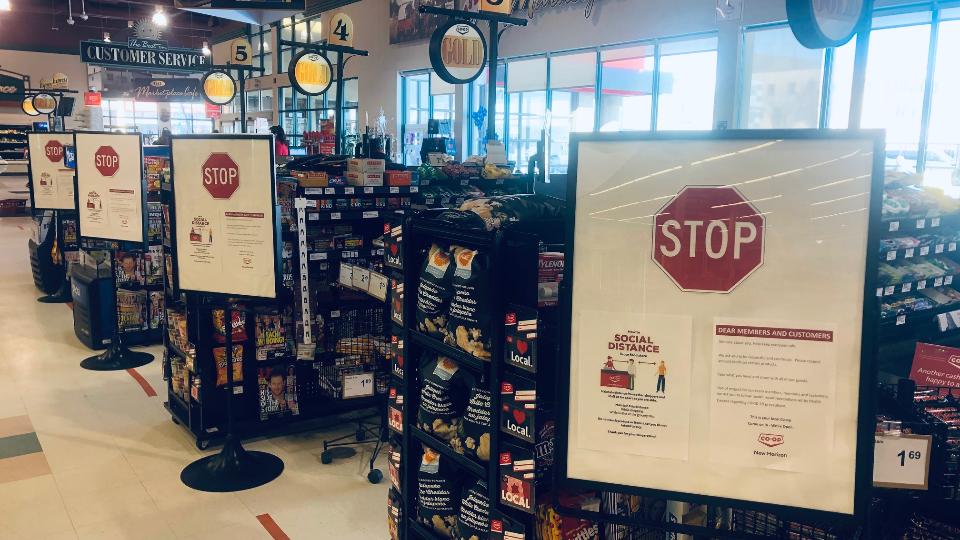 Changes to Store Hours
March 25, 2020
Effective Sunday, March 29th, the following locations will be operating at temporary adjusted hours. Operating at these adjusted hours will allow our teams rest to better serve our community.

All New Horizon Co-op Gas Bars, Grande Prairie

Monday — Saturday 7:00 AM — 9:00 PM
Sunday 8:00 AM — 8:00 PM

Valleyview Food Store
Monday — Saturday 8:00 AM — 8:00 PM
Sunday 10:00 AM — 7:00 PM

These changes are being implemented for the health and safety of our team members and customers, and so that we can effectively manage staff and prioritize sanitation.

We strongly encourage to heed the advice of our government, which is for those most at risk, including seniors, to stay home and have friends, family or neighbors do your shopping at this time. We also acknowledge that this is not possible for everyone, so we are offering delivery services within city limits, Monday – Friday our of these Food Store locations: Downtown Grande Prairie 780-539-6111, Falher 780-837-2261, Hythe 780-356-3864, and Valleyview 780-524-3101. $5 delivery charge in city limits. $5 picking fee (grocery orders under $100, Over $100 picking fee $10). We are offering delivery FREE to seniors that cannot leave their homes.

Grande Prairie delivery orders can also be emailed to mailbox@newhorizoncoop.ca. Please include the following information:
• Full name
• Phone #
• Co-op #
• Address
• List of requests (You can simply email a detailed list go to the top of this page click on flyers and create and email a list right from the flyer to your email account, then forward it with your delivery information to mailbox@newhorizoncoop.ca). If you have prescriptions with New Horizon Co-op Pharmacy and are within Grande Prairie city limits, you can also add those to your delivery by calling Trader Ridge Co-op Pharmacy at 780-402-8299 or Downtown Co-op Pharmacy at 780-532-2652.
Coming into our stores:
• If you have travelled outside of Canada in the last 14 days, do not enter any of our facilities.
If you have flu, cough, cold symptoms please stay home.
• Please come alone to shop.
• Keep a social distance of 2 meters between you and anyone else in the building.
• Please be respectful and courteous by acknowledging limits on certain products.

We are making adaptations to our processes to be able to continue to provide the services and products that you need while minimizing the risk of exposure to our customers and employees, and we thank you for your patience during this time.

We encourage you to check this article periodically for updates to the information. As things are very fluid and information is changing quickly, we will work to keep updated information available to our customers and members.