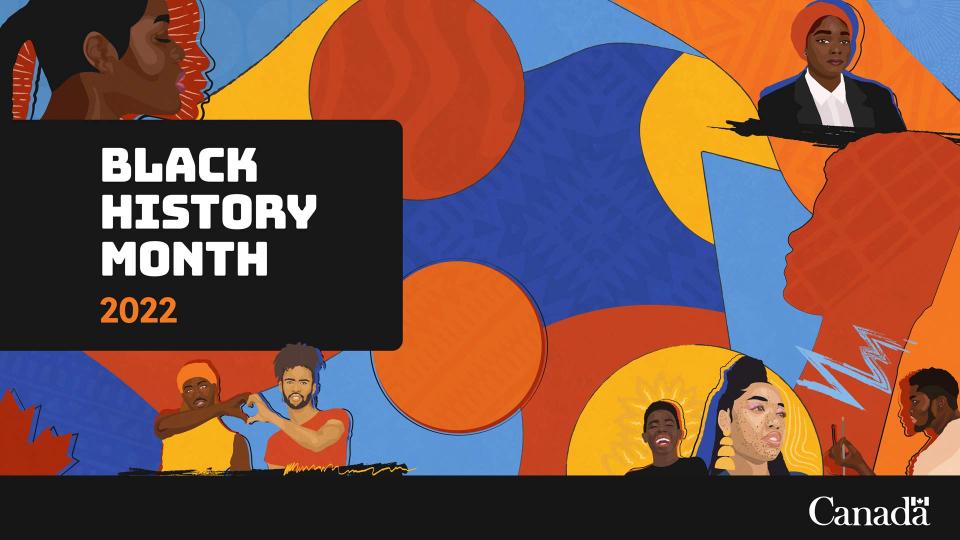 Black History Matters
February 4, 2022
It is a time to celebrate and acknowledge the achievements and contributions of Black Canadians.

However, it's important to remember that the acknowledgement and action that accompanies February for Black History Month should last all year. The Government of Canada's theme for Black History Month 2022 is "February and Forever: Celebrating Black History today and every day."
Learning about the history of Black Canadians is crucial to understanding why celebrating this event is so important. There are many influential Black Canadians that contributed to the Canada we know today. Take some time to learn about the people below and how they contributed to our country, and continue learning and search for other influential Black Canadians in history.
Viola Davis Desmond
—

Businesswoman and Civil Rights Activist
Viola was the first Canadian woman to be featured by herself on the face of a banknote — the $10 note released on November 19th, 2018. This came many years after being unfairly arrested and jailed over night in 1946 for refusing to leave the segregated Whites-only section of the Roseland Theatre in New Glasglow, Nova Scotia.
Desmond's courageous refusal to accept an act of racial discrimination provided inspiration to later generations of the Black community in Nova Scotia and the rest of Canada.

This is very a small part of her story, read more about her here:
Viola Desmond | The Canadian Encyclopedia
John Ware
—

Cowboy and Rancher
Ware Family 1896
John Ware is legendary in the history of Alberta for his strength, skilled farming techniques and skilled horsemanship. Born enslaved, he became a successful rancher who settled his first ranch near Millarville (near Calgary, Alberta) and his second ranch near Brooks, Alberta. Despite widespread anti-Black racism and discrimination, he was widely admired as one of the best ranchers and cowboys in the West.
Learn more about John here:

John Ware | The Canadian Encyclopedia
John Ware: Legendary Black Cowboy | Strong and Free - YouTube
Mary Ann Shadd Cary
—

Educator, Publisher and Abolitionist
Following in the footsteps of her activist parents, whose home was a safe house (or "station") on the Underground Railroad, Mary Ann Shadd Cary pursued community activism upon settling in Canada.
Mary Ann was the first Black female newspaper publisher in Canada. In 1853, she founded and edited The Provincial Freeman. This made Shadd the first Black woman in North America to publish a newspaper, and one of the first female journalists in Canada.
She also established a racially integrated school for Black refugees in Windsor, Ontario. She played an important role in giving Black people a voice and advocating for women's rights. In 1994, Shadd was designated a Person of National Historic Significance in Canada.
Learn more about Mary Ann Shadd here:

Mary Ann Shadd | The Canadian Encyclopedia
The current events and future of our country are just as important as our history. Here are a few influential Black Canadians that are currently making history in Canada:
Sandy Hudson, co-founder of Black Lives Matter Toronto
Claudette McGowan, global information technology leader
Andre De Grasse, Canadian sprinter and six-time Olympic medallist
Thoughtful ways to celebrate Black History Month
One way that celebrating Black History Month can go beyond just February is by taking action on the statements and information that we are listening to and sharing. Actions need to follow our words of support and acknowledgement of Black communities. Here are a few ways to take action:
Check your privilege – there are advantages, opportunities and power that comes with being a white person. Recognize this and learn how you can support and advocate for racial equality.
Support Black-owned businesses – lift up Black entrepreneurs and business owners by choosing to shop with them, share them or use their services.
Speak up – if you see racism happening or hear racist comments around you, say something.

Diversify your feed — if the only people who show up in your news feed look like you, it's time to change that! Follow and lift up Canadian BIPOC activists and influencers on social media.
Here are more ways to take action.